"I have been working with Kiara and Circle View for over 5 months now since participating in their first webinar. I have found the Circle View team to be innovative, responsive, and helpful in working with our team to implement tools to drive improvement in our plant."
Jeff Finch - Plant Manager
Register Now For Scaling Goals with Employee Empowerment
5 Ways To Build A Committed Team
Every organization strives for growth and develops strategies to realize its goal of becoming more profitable. However, a small number of companies successfully achieve set targets. One of the major reasons behind this is a significant gap between the leader's ambition and the commitment teams show towards goals. Today's business leaders need a committed team.
Building commitment in teams remains a challenge for most organizations. This blog post will explore 5 key elements of a committed team and map out ways to build dedication in your work team. 
Would you Rather Have a Compliant Team or a Committed Team?
Aren't you amazed at work teams that simply perform exceptionally well? They execute at high levels and exceed targets that weren't in scope for years.
On the other hand, some teams put forth just enough effort to meet minimum requirements. 
Comparing out-performing teams to your in-house team may be discouraging. Especially, if your requests are constantly met with excuses.  
What is the distinction between stellar teams and mediocre ones?
It seems that there are two types of teams. 
Compliant teams – those are the teams that may hit goals but are only really doing what they are asked to do.
And committed teams – teams that produce results that you have never seen before. These teams are different because every person on the team is giving discretionary effort. They are going above and beyond to ensure success. If the goal is 5, the committed team would be asking, "How can we get 6? ".
A committed team takes ownership of projects. 
How do you produce this high sense of dedication that remodels your team into a highly productive one? Here are my top 5 tips to build a committed team that achieves exceptional results consistently.
Clarity of Roles and Responsibilities
As a team leader, the first step is to get to know your team members and their skill sets. It is important to assign roles and make the best use of every individual. Roles and responsibilities need to be designed in line with the requirements of the organizational work strategy.
Building a Positive Relationship Among Members
It's not possible to get commitment from people or dedication from your team if the leader is not working on building a positive and supportive relationship with and among team members.
An example I would like to use is that of military or firefighters. In the military, soldiers refer to each other as a band of brothers. There is an incredible dedication to one another. In extreme cases, you may see one soldier jumping on a grenade to save a fellow soldier. Now that's commitment.
Where do you think that level of dedication comes from?
It occurs naturally based on the living and working environment. These bunkmates develop a deep bond with the fellow soldiers they do life with. 
Similarly, due to the nature of their work, firefighters live in their work station for days. They cook meals together and build bonds over long chats. Thus, this time spent together builds strong relationships and commitment among them. 
So as a leader, if you want commitment in your team, work on building a good close relationship with your team members and among them. Arrange some informal events in the workplace. Enlist your team members to help arrange these events. This laid-back environment allows them to sit together and get to know each other outside of their work capacity.
When you successfully build a team dedicated to you and one another, they will show more commitment to the goals you share. The vision you cast will lead to achieving goals with efficiency and effectiveness.
Communicating Clear Goals and Strategy
Goals and strategies need to be clear, measurable, and specific. As Robert S. Kaplan and David P. Norton pointed out in their article "The Office of Strategy Management" in "Harvard Business Review.".
"Effective strategy execution requires communicating corporate strategy; ensuring that enterprise-level plans are translated into the plans of the various units and departments."
"The Office of Strategy Management" By Robert S. Kaplan and David P. Norton
Most firms develop their strategies in the presence of top management, while the front-line managers and employees are unaware of company objectives. This creates a communication gap and affects productivity and the quality of project work. For a team to work committed towards a particular goal, all parties must be informed about that goal, potential problems, the execution plan, and key performance indicators.
Training and Development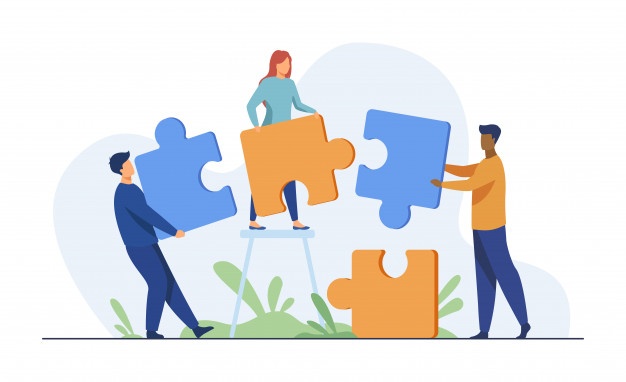 Appropriate training is an essential element in team-building and necessary for achieving objectives. Training improves the competence of employees and motivates them to commit themselves to company goals.
An Office of Strategy Management (OSM) can work with HR to devise training programs that align with company strategy and help them realize goals. See "The Office of Strategy Management" By Robert S. Kaplan and David P. Norton for more on this topic.
Training can help an organization build a more committed workforce. It develops a sense of reciprocity, responsibility, and identification.  An effective training program can lead to less employee turnover and increased commitment.
Provision of Incentives and Rewards to Motivate Commitment
How good is your organization at providing recognition to successful teams and their projects?
Acknowledge small and big wins regularly. Rewards and incentives carry tons of value for employees, and it is a way to engage competition among them to achieve higher goals. Similarly, rewards induce internal motivation in employees giving them a feeling of belongingness to the organization. Incentives and compensation need to follow a specific criterion that promotes equality and justice so that every individual puts forth their best possible effort.
Value Your Team
A business leader's dream is to wake up every morning and feel excited and positive about what they will tackle at work that day. Supporting teams need to feel the same positivity. They should feel their best efforts are being recognized and valued.
Ethical values are part and parcel of an organization when building team commitment. Ethical principles must have priority in an organization.
Companies have been working tirelessly for decades to enhance their work ethics. The three essential components that help promote workplace ethics are honesty, integrity, and accountability. These are consistent aspirations for most organizations. When employees see such ideals in action, they are more likely to stay and contribute to the company's ethical practices. This needs to be enforced at every level to achieve long-term growth.
Conclusion – Five ways to build a Committed Team.
1) Clarity of Roles and Responsibilities. 2) Building a Positive Relationship Among Members. 3) Communicating Clear Goals and Strategy. 4) Provision of Incentives and Rewards to Motivate Commitment. 5) Value Your Team.
Building commitment among teams remains one of the most important factors in the success of a team project. Fostering an appropriate environment for your team will build a high sense of dedication.
What other methodologies would you recommend for building a solid and dedicated team? What things do you remember most about great teams you have been a part of? 
Increase Employee Commitment To Improving Daily Activities and Sharing Feedback