Benefits and Features
Manage Operations Efficiently with Maximum Productivity
Secure Environment
Fast, secure cloud based services. We work around the clock to keep your information safe from bots, crawlers, and spammers.
KPI Charts You'll Love
Stop spending hours creating your own charts from spreadsheets, or stumbling through auto-generated charts you can't read.
Consistent Communication
Schedule and host meetings, send quick messages, and recall notes associated with conversations you've had in seconds.
Team Friendly
Keep everyone in the loop. Remain organized. Hustle together to reach visual goals.
Visualize Your Process
Perfect your ability to achieve goals by creating plans that incorporate measurable metrics. Develop systems that bypass your goals and tweak them regularly for best performance.
Quantitative Goal Setting and Tracking Tools

Value Stream Process Modeling

Floor Cam

Cause Analysis Tools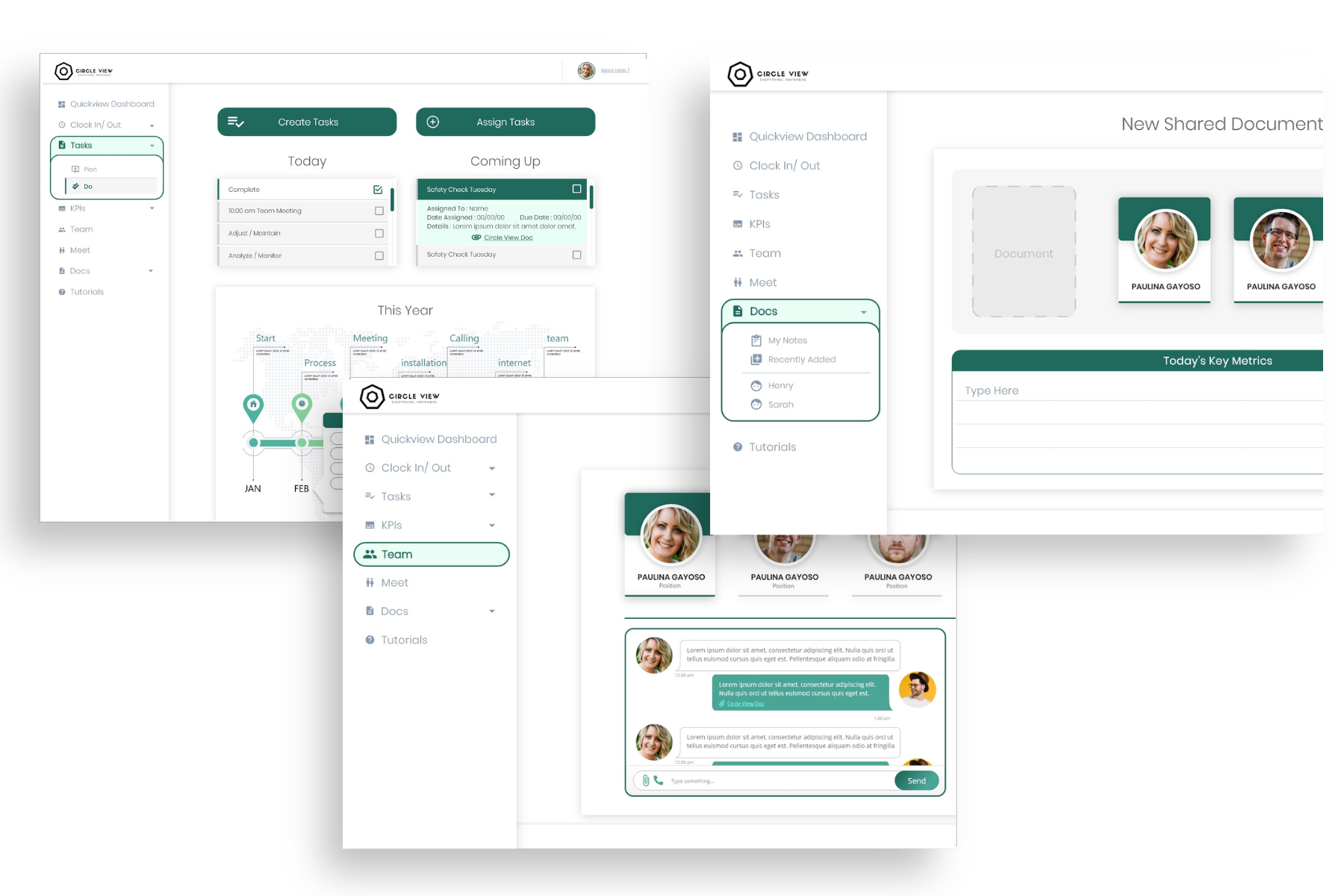 Work and Delegate
Assign tasks to your team or watch them manage themselves. Run a tight ship that meets quotas and hammers the competition.
Task Management (Daily, Weekly, Monthly)
Maintenance Alerts and Escalation Processes
Simple Labor Management
Effortless Communication with your team
Keep your team in step with ongoing communication. Rest in the comfort that no detail will be missed or out of reach.
Direct Message Any Team Member
Reference Past Conversations
Keep Reference Notes
"An amazing way for non-engineers to see what's going on, get a snapshot in any given moment. And I love the idea of kind of the tree of tasking, and stakeholders, and having people's names and titles. It's awesome."
Kat Dawe – Operations Manager
Schedule Group Meetings with Ease
Meet daily with your team and invited guests. Notate important points and reference them later.
Video Conferencing
Take Notes During the Meeting
Take Action using Daily Metrics
Each department can daily view real-time metrics and user-friendly charts that relate to their specific goals, quickly discuss visual issues, and create tasks for resolving them all with the click of a few buttons.
Take Action using tiered Key Performance Indicators Daily Check-In

Hands-on action resembling tiered plant meetings

Create Visual Supervisor Reports Using Charts
Consistently Document and Report
Organize, create, and share documents and spreadsheets. Easily locate documents shared by individual team members.
Create and Share Documents with Your Team
Create Reports for Supervisors
"I think it's important to have this because it's important for everyone to know the plan. And I think it's good to remind yourself of the plan because sometimes you get off track. And then this kind of brings you back on the road where you need to go on your plan."
Steven Morss – Project Manager
User Onboarding
During a scheduled call, we get you started in 3 easy steps:
Step 1
Choose the tools you share with your team. We will integrate them with Circle View.
Step 2
Tell us the metrics that matter most to you. We will populate charts on your dashboard.
Step 3
Invite your team members to join you. We will set up their account as well.