Benefits and Features
Boost Profitability Through Employee Empowerment
Daily Lean Meeting
Digitize your Daily Lean Team Meetings with a drag and drop Visual Management Board. This lean tool provides an interface for reviewing your team's progress Yesterday, instructing them on Today's tasks, and quickly isolating Obstacles to performance.
Lean Process Review
Maintain weekly Lean processes with ease. Communicate with your team concerning their progress on Goals, KPIs, Projects, and Tasks directly owned by them. Set the course for the week and remove obstacles to success all from a single dashboard.
Goal Monitoring
Make company goals actionable for your team. Our tool creates a system for clearly communicating goals. Your team can easily create and monitor supporting goals that are applicable for their roles or departments.
KPI Ownership
Real performance improvement happens when people own the numbers. Our tool makes it easy to give ownership of each KPI to a team member that can monitor its progress daily.
Task Alignment
Don't be aimless or waste time putting out fires. Tasks should always move the needle. Create tasks that move Projects and KPIs forward.
Feedback Loop
Create a place for your team to contribute at a high level. Ensure they are informed about important KPIs and goals that drive the business. Feedback from their unique perspectives can save thousands and boost company growth.
Daily Lean Meeting Dashboard
Our Drag and Drop visual management board allows leaders and teams a digital interface for their Daily Lean Meetings. Review progress from direct metric owners and prepare your team for a productive day as you progress toward company goals together.
Isolate and Remove Progress Obstacles

Assign Improvement Project and Tasks To Metric Owners

Attribute Success Directly to Metric Owners for Daily Increased Motivation 
Lean Process Review
Our Quickview Dashboard allows leaders and teams a daily snapshot of the goals and metrics that matter most to the organization. With it they can perfect their ability to achieve daily goals.
Clear Daily Goal and KPI Scope

Quickly View Open Comments and Team Feedback

Create Tasks That Move The Needle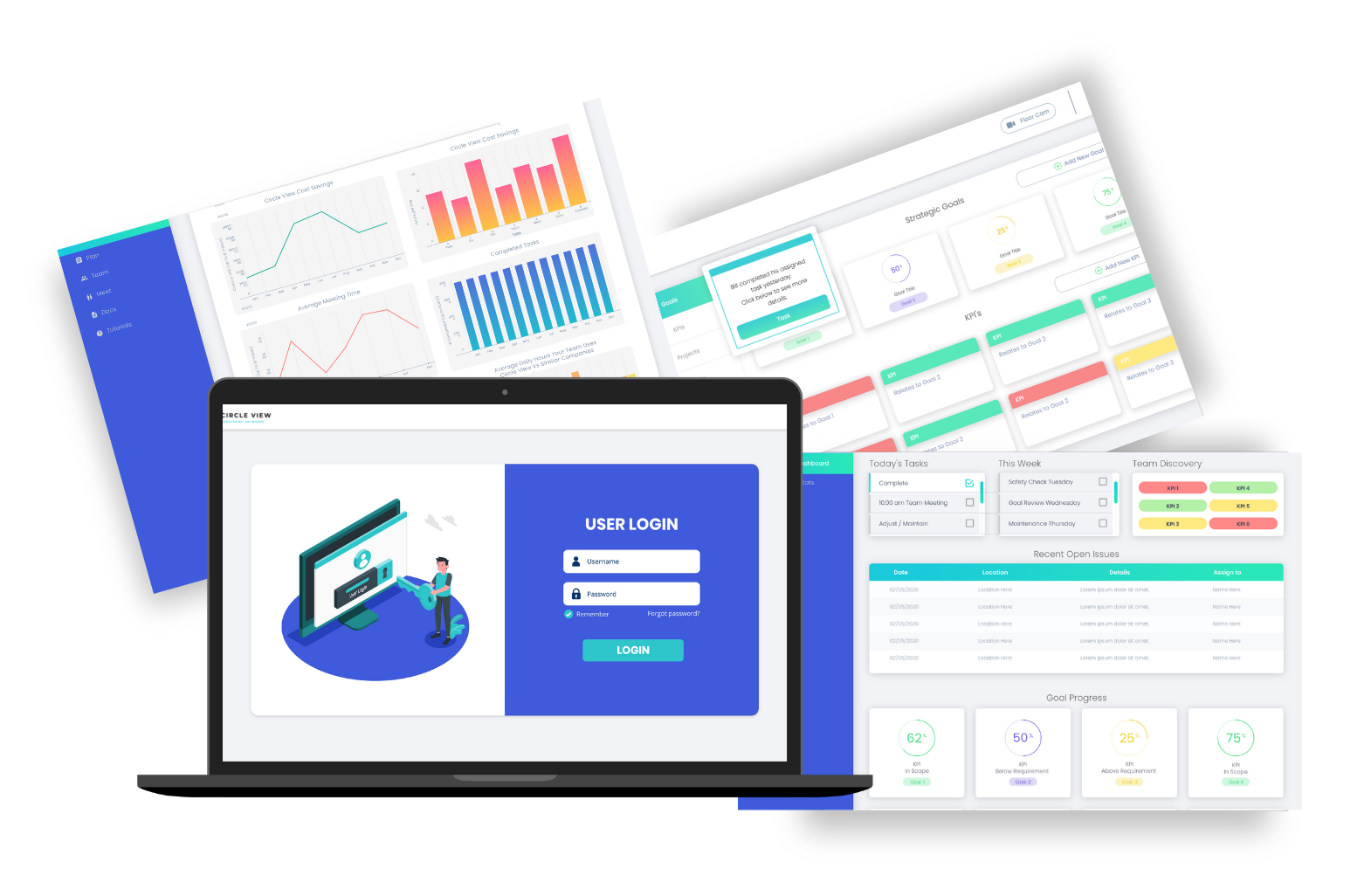 Work and Delegate
Assign tasks to your team or watch them manage themselves. Run a tight ship that meets quotas and hammers the competition. 
Simple Task Management
View and Take Action on Tasks According to Green, Yellow and Red Alerts
See Your Entire Team's Progress and Offer Timely Assistance
Seamless Communication with Your Team
Keep your team in step with ongoing communication. Rest in the comfort that no detail will be missed or out of reach.
Integrate with Microsoft Teams Messaging and Video Conferencing
Export Report Data to Your Employee Relationship Management Software
"An amazing way for non-engineers to see what's going on, get a snapshot in any given moment. And I love the idea of kind of the tree of tasking, and stakeholders, and having people's names and titles. It's awesome."
Kat Dawe – Operations Manager
Give A Voice To Your Greatest Asset
Using our Comments feature, your team can contribute at a high level. Each member will have a clear view of your company goals and can comment on topics that affect your bottom line.  
The Team can View Goals and Leave Comments according To Their Viewpoint 
Leaders can Take Action on Comments by Assigning Tasks and Creating Goals and KPIs
Take Action using Daily Metrics
Each department can daily view real-time metrics and user-friendly charts that relate to their specific goals, quickly discuss visual issues, and create tasks for resolving them all with the click of a few buttons.
Take Action on "Red" Key Performance Indicators

Hands-On Action Resembling Tiered Plant Meetings

Create Supervisor Reports from A Template
Consistently Document and Report
Organize, create, and share reports regarding Goal related data. Create simple, clean reports showing goal progress over time.
Create and Discuss Reports with Your Team
Create Reports for Supervisors
Reference Notes from the Platform and Take Action
"I think it's important to have this because it's important for everyone to know the plan. And I think it's good to remind yourself of the plan because sometimes you get off track. And then this kind of brings you back on the road where you need to go on your plan."
Steven Morss – Project Manager
Extreme Goal Pursuit
Unwavering focus on company goals. Circle View allows every action to align and contribute directly to goals.
KPI Charts You'll Love
Stop spending hours creating your own charts from spreadsheets, or stumbling through auto-generated charts you can't read.
Timely Communication
Understand what immediate actions can bring each goal within reach. Discuss potential deterrents before they occur.
Team Friendly
Keep everyone in the loop. Remain organized. Hustle together to reach visual goals.